I've always believed a plant based, whole grain diet (with fish) is the healthiest diet. And now, there is significant data to support the benefits of such a diet for those with cancer. Having access to good recipes helps make eating this way easier and enjoyable.
While the weather in Austin has warmed up, winter soups are still in order for much of the country. Here is a one of my quick, go-to recipes. I made a batch of this soup recently to eat for lunches throughout the week. This recipe makes enough for 3-4 lunches. It's filling, healthy and friend approved; I recently served this to my closest girlfriends and by all accounts it was a hit.
Ingredients:
One medium sweet onion, diced
3-4 gloves of garlic, peeled and chopped
3 large carrots, peeled and diced
3 stalks of celery, diced
1 can diced tomatoes
1 can garbanzo beans
1 can kidney beans
1 can white beans
32 oz. Vegetable broth
Parmesan rind* (optional, if you're not vegan)
1 tablespoon Tomato paste
The juice of ½ a lemon
Extra virgin olive oil
Add-ins: ½ pound of small sized pasta** (optional)
Seasonings: salt, pepper, oregano, red-pepper chili flakes, one bunch of chopped fresh basil
Coat the bottom of a big soup pot with a thin layer of extra virgin olive oil. That's probably 2-3 tablespoons, but you don't have to be exact. Turn the heat to medium high. Now is a good time to chop the onions and garlic.
Once the pot is hot and the oil is shimmering, add the chopped onion. After about a minute add the minced garlic. Add salt (a generous pinch), pepper (4-5 grinds on the pepper mill) and a sprinkle of red pepper chili flakes (if you like it hotter, add more). Cook the onion until translucent, about 5 minutes. In the meantime, peel the carrots and dice the carrots and celery. Add the carrots and celery into the pot with the onions and garlic. Sometimes I will add a little more extra virgin olive oil if the bottom of the pot is looking dry. Add about 1 tablespoon of oregano and cook the vegetables for about 5 minutes, stirring occasionally.
Once the vegetables have cooked for a few minutes, add the canned tomatoes and tomato paste. Add the juice of half of a lemon and stir for a few minutes.
Stir in the vegetable stock and the parmesan rind, if using. Bring to a simmer, cover, and cook on low heat for 20 minutes.
While the soup is simmering, chop the basil and open all three cans of beans. Pour each can into one strainer and rinse the beans under cold water.*** After about 20 minutes, add all of the beans and half of the chopped basil and cook for an additional 10 minutes. Turn off the heat. Remove parmesan rind. Add the rest of the chopped basil.
The soup is ready! If I am making the soup for lunches I will let it sit on the stove for about 15 minutes to cool before dividing it into 3-4 Tupperware containers for lunches.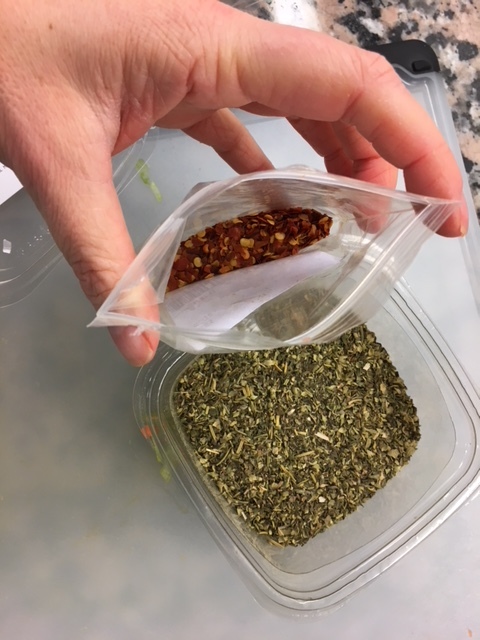 *Dairy (cheese) isn't vegan. Including a parmesan rind in this recipe simply adds flavor. There isn't cheese left on the rind. You can skip this if you prefer.
** If you want to add pasta to this recipe, cook ½ pound of dried pasta separately. Add the pasta to the soup at the very end. If you add it while the soup is still cooking it will get mushy. I make this recipe both with and without the pasta but if I am being carb conscious I leave it out. Fresh pasta generally contains eggs and therefore isn't vegan. Most dried pasta is vegan, however. Look at the ingredients to be sure.
*** Canned beans verses dried beans. Canned beans certainly contain much more sodium and cost more. Other than the higher sodium content the nutritional value is roughly the same. The point of rinsing is to reduce excess sodium that comes with canned products. Fresher/less processed is always better, as a general rule, but dried beans require much more prep time. You'll see I prefer organic products, when possible. In an effort to keep this quick and easy I choose canned beans for this recipe.